---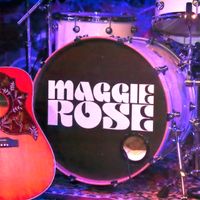 On a hot Friday, August night in Dallas, Maggie Rose, and her band "Them Vibes," rolled into the venerable Deep Ellum Club Dada to perform. Them Vibes started the set and was joined thirty minutes later by Maggie. Maggie Rose was billed as an "up and coming," country artist even though she has performed at the Grand Ole Opry more than 50 times, has multiple albums, EPs, singles, and music videos to her name. In addition, she has toured with the likes of Sheryl Crow and Gary Allen. This up-and-coming title is really a hangover from her start seven years ago where she is labeled by the likes of the CMA and Nashville establishment - "up and coming."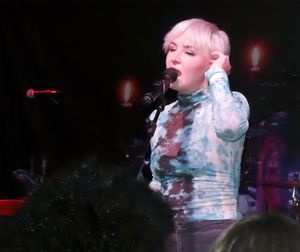 Fast-forward to her new album released in 2021 "Have a Seat," which was recorded at Fame Studios in Muscle Shoals, Alabama with musicians including David Hood, Will McFarlane, and several members of Them Vibes. The end result of the recording is an album that leans into R&B, Jazz, and pop creating an album that will make the Nashville establishment wince. Maggie's edgy direction heads into an area that often makes traditional country uncomfortable. She's talking about inclusiveness, asking people to sit at the same table and talk things out. Rather weighty stuff for the country genre but Maggie makes the most of it with her dynamic vocals that leave no doubt that she is a force to be reckoned with in the topsy-turvy world of 21st Century music. 
Maggie and Them Vibes put their hearts and souls into their performance on the sweltering Dallas evening in spite of a lean crowd. I suspect that being back on a live stage after the long COVID hiatus makes any performance worthwhile. Maggie's artistry coupled with her band's solid musicianship turned the evening into a musical treat. It was just too bad that more people were not there to hear the musical magic happen.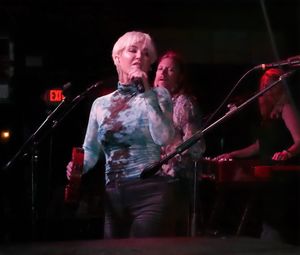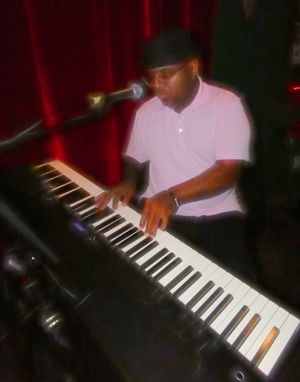 ---
  Linny Nance has been around the Dallas R&B and Funk scene for quite a few years.  He has played with almost everyone in town on occasion.   However, for the last 4-5 years, he's been the opener for "open Mic" night at the Balcony Club every Monday  , both alone as keyboardist and singer or with some of his associates. 
I caught him on a Monday night a couple of weeks after COVID restrictions were lifted and the club reopened.  The night was a little special as his two quests were students f rom the Booker T. Washington High School for performing arts and are both headed for the Berklee School of Music in Boston.  Connor Norton played bass guitar and Payton Taylor was on drums.    
They began with an up-tempo blues number and morphed into "Stormy Monday". They were soon joined by Maurice Curtis and Chuck Ledbetter on tenor and baritone saxophones.   George Bond shortly arrived and added his jazz guitar licks to the stew. In all, this interesting mix went on, non-stop for over an hour with various players coming and going.  Suffice it to say the crowd loved it, but no one appeared to have more fun or enthusiasm than the talented Mr. Nance.   These Monday night sessions are always fun and one never knows who will appear to add their musicianship or voice to the Linny Nance funk.  
Linny plays almost every venue in the metroplex and can be reached for bookings at: LNANCE@AOL.COM , his website is www.FUNKGROOVE.COM . 
He can also be found on FaceBook as "LinnyNanceMusic"  and Youtube at "Funk Groove Music".
jb
Aces and 8's is actually a trio of musicians consisting of Mason Ganer on guitar and lead vocals, Jerry Johnson on bass, and John Young on drums. The latter two also back up vocals.   They performed on an outdoor stage on a hot Sunday afternoon. Their material is primarily rock, both covers and originals.   They are tight and well-rehearsed. They have extraordinarily balanced vocals for a rock trio. Ganer's guitar work is not overly complicated and appropriate to their material.  The same can be said for Johnson and Young.  In a word, these guys are pretty damned good and were perfect for Stroker's on a Sunday afternoon.  Their audience was largely middle-aged bikers. The fairly large crowd ( out of doors ) appeared to enjoy the fresh air, the band, the cold beer, and each other. 
Contact:  acesandeight8.2.1876@gmail.com
                 FaceBook: Deadmanshand.1876
                 (903) 930 2511
---
Strokers is unique in Dallas.  On Harry Hines, west of Bachman Lake, the place has been at that location for over 40 years and was originated by the present owner's (Rick Fairless) late mother.  There is plenty of free parking. It sits on several acres and is comprised of a store, an ice house ( for beer and wine ), a large outdoor area with a fairly large stage and more motorcycles than I have ever seen in one place, many are custom jobs.  Punch Wally Automotive garage is in the back. The décor is pure biker and pink flamingos.  An old "big Boy's " hamburger statue is at one end of the stage, a 1/20th scale statue of liberty at the other.  A large statue of Betty Boop is on the roof of the stage.  Bands appear on most weekends. On the roof of the main building is a dinosaur, a steer, a huge hot dog and other artifacts. Stroker's is the "Six Flags" for bikers and anyone looking for a unique and entertaining experience.  If you visit Dallas, and especially if you live in the metroplex, make it a point to go to Stroker's. You'll not be disappointed. 
www.StrokersDallas.com
(214) 357 0707 
jb
 

I've been to the Redfield ( on Butler Street ) before. Frankly, I like the place.  In the evening, at least it is rarely crowded, the food, including some interesting burger variation with fries or rings, is always good. The service is fast and courteous. There are two areas, an indoor bar and eating area and a large outdoor patio with a large stage.  
On this night I went to see "Penny and the Flame Throwers" whom I was told was the rockabilly group of the year. The group formed just before COVID shut everything down and thus hasn't been publicly playing in the last year. Nonetheless, these folks took their time off to rehearse and it shows.  
The group is fronted by Penny Ruffles who sings and banters with the crowd.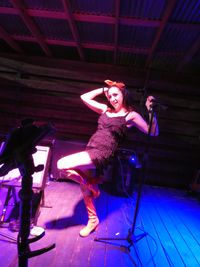 The lead guitar was handled by Darin Watkins,  Jerry Farmer ( bass ), drummer  David Baird, and Robert Gutierrez on saxophone. They were tight and well-rehearsed.  Their volume was perfect. The set I saw ended with Elvis's hit "Burning Love" belted authoritatively by Miss Penny, backed by an altering tour de ' force of guitar and sax.  
I had a good time all the way around.  I can easily recommend Redfield's as a good place to eat and or hear good music and Penny and the Flamethrowers for rockabilly aficionados. Penny and her gang will  be at Baji Ritas in Lewisville on 09/09/21 253 Church Road , Lewisville (469) 240 0165 
Contact for booking : (972) 989 5396 www.guitarboss65@yahoo.com 
The Maverick is a sports bar and grill located on the Hebron Parkway near the Carrollton -Lewisville line. It's a medium-sized bar serving mixed drinks, cold beer, burgers, and fries. There are multiple large screen TVs with sports of varying kinds at all times. The wait staff and management were prompt and friendly. The food is good and the service fast. I hit the place on Friday night around 9 PM to soak up the ambiance ( mostly a 20  to 30-year-old g roup) and to get a look at a band I've heard about; a Led Zeppelin tribute band titled "The Zeppelin Project." I arrived about time for kick -off and was impressed by the band's sound system that almost pushed me out the door.  The cover charge was ten dollars. Five members, a vocalist, lead guitarist, drummer, and bass/keyboard player were tight and clearly well-rehearsed.  The band is a very good representation of the real Zeppelin, but the lead singer sounded exactly like Robert Plant.  The audience danced, hooted, and had a great time.  Given that these guys are the closest thing to Led Zeppelin that most of us will ever have an opportunity to see, I'd say go for.       

We've visited Redfield's on Butler Street in Dallas before.  Nonetheless, the performance of a Madonna tribute band just couldn't be missed. Redfield's was as expected, but the crowd was larger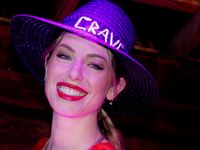 than our prior visit, including more than a few persons dressed as Madonna. 
The group performed in the open-air patio area. The sound system was set at about the right volume. The band was composed of five performers including the principal singer,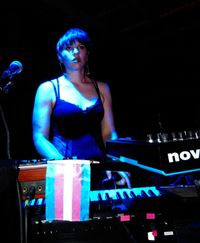 Adrian Lea Vallhalla, and a female keyboardist/key bassist and back-up singer, Poppy Vander,  Bobby Hoke, also on keyboards, Rob Hines on guitar, and Alan Mouradian on drums. 
The group was tight and well-rehearsed. I'll confess that many of the songs were not known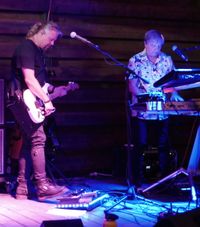 to me, but it mattered little. The sound was well balanced and each band member performed flawlessly. Adrian Vallhalla's vocals are remarkable.  Her stage presence dominated the performance, but her voice was positively magnificent. Of the Madonna songs I recognized, her voice surpassed the original.  I suspect she has had some formal vocal training, but she certainly has talent and a voice that could do justice to many musical types. The bands appears frequently in the DFW area and are scheduled to perform at the Rustic ( Dallas, September 02 ), Chill (Lewisville, September 04 ), and the Maverick (Carrollton, on September 10). Contact the group at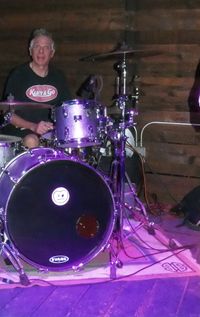 www.primadonnadallas@gmail.com or visit their FaceBook Page 
 
The Memphis Bar and grill is a rather upscale place in Addison Texas.  This is not your usual burger and beer joint.  Split level, the bar is above the dance floor and faces a tiered bandstand.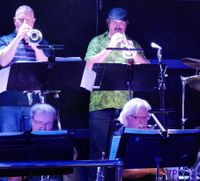 There is live music seven nights per week, featuring some of the best players in the north Texas area. The atmosphere is casual, the bar has a wide variety of beers and mixed drinks. The wait staff is prompt of pleasant.  The evenings usually draw a good, but not an oversized crowd of young adults.  Office casual dress is appropriate.  
About twice per month usually on Mondays there is an early appearance by the  Memphis Horns, a twelve or so piece jazz orchestra mostly composed of well seasoned professional musicians, The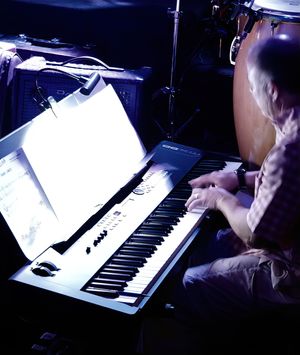 orchestra spills from the stage to the floor, but no one seems to mind as the place is usually filled with hard-core jazz band fans.  Dancing is permitted but limited by space. They play until about 9 PM when they yield the stage to a rock or jazz-rock band.  Grab someone who thinks you may be sophisticated, and go to hear the Memphis Horns. The place looks more expensive than it actually is.  Buy martinis and tip the staff $5-10 and the night will be yours.  Oh, did I mention, no cover charge?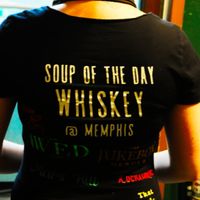 The Interurban Grill is just off Main street in Richardson ( 221 Polk street ). It is a rather small cafe, located on the first floor of a two-story building.  There is ample parking. The Grill is open 11 AM until 2 PM daily. Dine-in or take-out seafood, burgers, and pizza.  Liquor and beer are also available.  The service is good and the food is great.  I note that the Interurban is owned by the same folks who own the Fish N Tails chain and the menus are similar.  Despite its small size, the Interurban Grill is the current home of the legendary Dallas Jazz Orchestra ( DJO ) founded by Galen Jeter in 1971. The members were mostly from the Lab band at North Texas State University.   There are currently twenty members. Though many no longer play professionally, all are outstanding, dedicated big band jazz artists.  
DJO appears at the Interurban Grill each Thursday evening from about 8 to 11 pm.  There is no cover charge, but seating can be a problem as the band takes up more than half of the available space. Still led by Galen Jeter ( trumpet ) the band blasts through hits from decades past in a fashion that is hard to find today.  I've always been a big band fan, but the recordings are old, scratchy, and generally not up to today's standards. The DJO is a treasure that has survived Bebop, rock n' roll, and every other form of  "pop" music.  The magnificent swells and sweet pianissimos from a twenty-piece orchestra are a universe separate from any recording.  
Do yourself a favor and see DJO before such big band groups are gone forever. 
Israel Cavazos and the Sweet Sounds Band have been around since 1970. I caught them at the Fish and Tails Oyster Bar on a Sunday night.  This is not a cowboy hat Tejano band. They played classic rock and Latin-type classics reminiscent of Santana and The Texas Tornado.  They do both well. In fact, they are one of the most entertaining and musically good groups I've heard in a while.  Playing at a volume that was effective but not overwhelming, they blew through "Hey Baby Que Paso", followed by "Brick House" and "Play that Funky Music White Boy". Virtually perfect covers in every way. Israel sings and plays Latin percussion alongside bass, guitar drums, and keyboards, most of whom sing solo or back-up. The crowd, mostly 30 to 40-year-olds loved them, danced, and applauded wildly after almost every song.  They perform mostly in various DFW restaurants and at the Fish N Tails on North Central expressway about once per month. There is no cover and the seafood is ample and flavorful. This is clearly an underestimated dance-oriented band. Booking: Nora Cazazos  (214) 205 0913, or https//: www.izthewiz@verision.net The Fish N Tails restaurant has several locations ( North Central Expressway, Casa Linda Village, Plano, Garland, and Plano ).   It is a Latin-influenced seafood café, featuring shrimp, salmon, calamari, and catfish.  Portions are large, well seasoned and the service is fast and attentive.  Food prices are $10-15 per entrée. The place has funky decor which would not look out of place in Deep Ellum. There are lots of mounted fish, pink and blue walls, year-round Christmas lights and even manakins dressed as the "Blues Brothers". Most of the locations have cold beer and cocktails.  All ages are welcome. https//:www.Fishntails.com I hardily recommend both the band and the restaurant. Expect good food and a great entertainment experience.

Louie Louie's Piano Bar located at 2605 Elm Street in Dallas is dedicated to pure fun.  Most nights they feature two baby grand pianos facing each other. Each piano is manned by a singer/pianist/comedian.   The banter is funny, the songs are even better.   A rap version of the introduction to the opera Carman is not out of the question.   The audience participates and calls out songs, and downs the cold beer and Some of the best-mixed drinks in Deep Ellum. I've not seen it yet, but a conga line of patrons doing the bunny hop down Elm Street is not out of the question.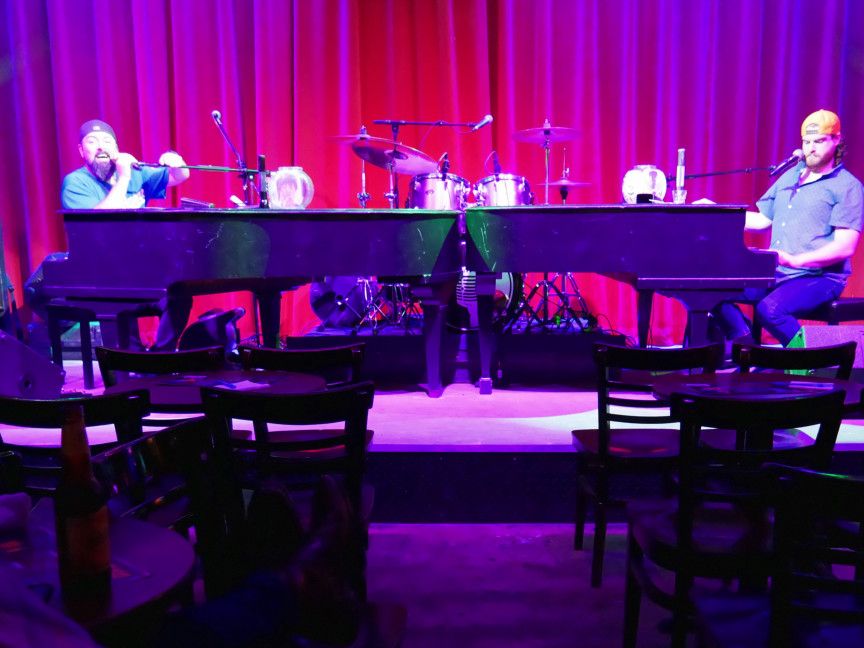 On occasional Monday nights, the Elm Street Blues Band, featuring Rodney Johnson makes an appearance beginning at 10 PM.    This is a ten to twelve-piece  Rock/jazz and soul band reminiscent of "Tower of Power ". 
For good music and just plain fun, give Louie's a try some night. Opens at 7 PM 
Contact (214) 741-3600 www.Louielouiespianobar.com