Classical Musicians from Texas
Tchaikovsky: Rhapsody Op. 119 No. 4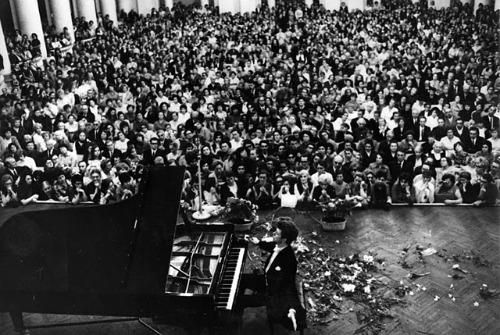 VAN CLIBURN
Born Harvey Lavan "Van" Cliburn was born in 1934 in Shreveport, Louisiana. As a child, Cliburn moved to first Kilgore, Texas, and ultimately to Fort Worth.  He began piano lessons beginning at the age of three years.  At age twelve, he won a state-wide competition in Houston.  At seventeen, he was accepted to the Julliard School of Music, where he studied with Rosina Lhevinne. In 1954, he made his debut at Carnegie Hall.
The first International Tchaikovsky Competition was designed to demonstrate Soviet cultural superiority during the cold war.  Cliburn's performance at the competition finale of Tchaikovsky's Piano Concerto No. 1, followed by Rachmaninoff's Concerto No.3, earned him an eight-minute standing ovation. He finished with his own arrangement of "Moscow Nights," which further endeared him to the members of the Russian orchestra playing behind him.
When the winner was to be announced, the judges felt obliged to ask then Soviet Premier Nikita Khrushchev if he approved of their choice. Khrushchev asked, " Is he the best?".  "Then give him the prize." There followed a ticker tape parade in New York and international fame. Cliburn continued to perform ( always sold out ), record and lecture until his death at age 78 (2013 ).  His legacy lives on through the Van Cliburn Piano Competition held in Fort Worth. Aspiring young pianists from all over the world come to showcase their talent in hopes of winning the competition. Van Cliburn forever changed the musical landscape in Texas, demonstrating the broad range and depth of musicianship coming from Texas and inspiring young musicians around the world.   
Thanks Van for showing the world that Texas can and has produced some of the world's finest musicians.
I appreciate more than you will ever know that you are honoring me, but the thing that thrills me the most is that you are honoring classical music. Because I'm only one of many. I'm only a witness and a messenger. Because I believe so much in the beauty, the construction, the architecture invisible, the importance for all generations, for young people to come that it will help their minds, develop their attitudes, and give them values. That is why I'm so grateful that you have honored me in that spirit. Van Cliburn