Red @
Adair's Saloon 
---
Red at Adair's Saloon is a Dallas institution. Red started playing at Adair's back when his hair was dark, now his hair is white as snow. In the early Red photos at Adairs, there are no wrinkles on his face - smooth as a baby's butt. Yet the white hair and wrinkles don't begin to tell the story of a man who plays the guitar, sings, and writes songs. Many contemporary country artists have come through Adair's on their way to bigger things, but Red is still there playing his guitar and singing his songs even when no one is listening. All of this reminds me of the Joni Mitchel song "For Free."  
I slept last night in a good hotel  I went shopping today for jewels The wind rushed around in the dirty town And the children let out from the schools 
I was standing on a noisy corner Waiting for the walking green Across the street he stood And he played real good 
On his clarinet for free 
Now me I play for fortunes  And those velvet curtain calls I've got a black limousine And two gentlemen Escorting me to the halls  And I play if you have the money  Or if you're a friend to me  But the one man band  By the quick lunch stand He was playing real good for free 
Nobody stopped to hear him Though he played so sweet and high They knew he had never  Been on their T.V. 
So they passed his music by I meant to go over and ask for a song  Maybe put on a harmony I heard his refrain As the signal changed 
He was playing real good for free 
Joni added these additional lyrics in a 1983 concert
Playing like a fallen angel Playing like a rising star
Playing for a hat full of nothing to the honking of the cars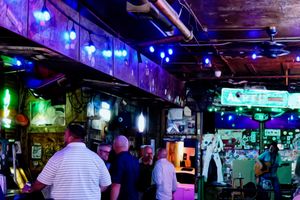 So here is to Red, who plays for tips, sings his songs, and has returned to the stage at Adair's for decades. Some musicians want stardom, money, and all the trappings that come with it. It's a difficult path to travel, as less than 1% of musicians make 99% of all the money. But music is a labor of love and Red is a shining example of playing because he wants to make music. He plays every Wednesday night at Adair's. Go give him a listen and put some money in his tip jar or buy him a beer - he's earned it.