LINDSAY HIGHTOWER at the Twilite Lounge Fort Worth
May 06, 2023
Anything short of the Super Bowl would seem tame on the day after Cinco de Mayo. In my post-Cinco de Mayo dilapidated funk, I find that Lindsay Hightower is performing at the Twilite Lounge in Fort Worth. Despite a rather heavy rain, I decided that a talent such as hers, with free parking and no cover charge, is worth it. Lindsay Hightower and her Hightower Band have been around North Texas for several years. Lindsay is a thirty-something-year-old singer, of various styles and a writer of pretty good songs. Her latest release, "Treading Water" and her four previous albums are available on all the usual streaming services. Their performance is pleasant, with sincere and comforting songs. The musicianship is top-notch. They perform well together. I got to Ft Worth before the group started and spoke to Lindsay and her guys. These are delightful, dedicated musicians. Their performance is smooth and well-rehearsed, with Lindsay leading, fronting the band, and providing most of the vocals. The band members are Hagan Hauschild ( drums ) Dave Ferrel ( bass ), Taylor Dondlinger ( guitar and backing vocals ). This is an under-appreciated group, and they seemed to like the intimacy of the smaller venue ( Twilite ) . Lindsay has an excellent voice and is dedicated to her craft. Read more about her in a feature and pictorial article in (online) Voyage Magazine. Booking: Mathew Jones www.booking@Hightowerband.com
 
Thanks to the Twilite Lounge in Fort Worth.
212 Lipscombe Street
Fort Worth, Texas
(817) 720 5483
jb
CINCO De MAYO at THE LEVITT PAVILLION
May 5, 2023
I've lived in Texas all my life ( more or less ), but never paid much attention to Cinco de Mayo ( Mexican independence from France ) day until I lived in San Antonio many years ago. Similar to St Patrick's Day in Ireland, Cinco de Mayo is not a big deal in its home country, but as we all know, Texas will use any excuse for a day of near-riot celebration, 
which must include music and drinking far into the night. Let's face it many of us are or have been or will become incorrigible party animals and or drunks. Music, especially good music, only adds fuel to the fire and a reason to 
keep the party confined to a controllable area. Cinco de Mayo is a perfect example. Always looking for a good riot, 
street brawl, or "celebration", I heard that the Levitt Pavillion in Arlington was hosting such an event on May 5. No cover and free parking. Well, what's not to like? I arrive around sundown. 
Maraichi Fusuion was the opening act. This very entertaining group combines all kinds of Latin music ( mariachi, Salsa, Tejano, C&W, and even a pop tune or two. ) with flashy outfits and a pleasant stage presence. They played for only an hour. The band is from Austin and consists of Anna Martinez ( vocals and trumpet ), Brad Kirkham ( trumpet ), Luis Rava ( Bass ), and Roger Martinez ( accordion, percussion, and frontman). These folks won't disappoint. www.Mariachifuzion.com (817) 773 3830 
Booking: mariachinewera@gmail.com 
TEXAS LATINO was up next, filling any gaps in the crowd's excitement. This Latino "supergroup" consists of members of several prominent Latino or Tejano groups. The members are Gabe Rivera ( vocal and frontman), Candor Tovar ( accordion from the group Culturas ), Luis Ortiz ( Culturas guitarist ), and several members of 
Groupo Sol, including singer Rick Acosta, Manual Enriguez on bass, and drummer J.B. Hernandez. High-energy Tejano was this group's forte. Non-stop action and vocals by Gabe Rivera kept the crowd dancing and participating in sing-alongs. This group hails from San Antonio and can be contacted as follows : (210) 410 9698 Texas Latino on FaceBook 
#texas latino2023 
Special thanks to the Arlington Levitt Pavillion in Arlington, the City of Arlington, and the Levitt Foundation for providing free, quality public entertainment. A truly remarkable partnership between cities and a generous private foundation. 
Contact: https://Levittpavillionarlington.org 
Jb
The KEITH MITCHELL BAND AT GOOD VIBES BAR & GRILL
April 28, 2023
It's a rainy Friday, and I don't really want to go to Fort Worth for a C&W band.  I'm in luck. I find an ad for "The best C&W band in Dallas," the Keith Mitchell Band, tonight at Good Vibes in Richardson, Texas. Well, OK.  It's a lot closer than Ft. Worth. I find the place with no problem, and parking is ample and free.  I pay a $5 cover charge, schmooze the management ( David Brown ) and meet Keith Mitchell, the band leader. The place isn't crowded, and the stage is elevated about 3 feet. Perfect. There's a full-service bar and a menu of grilled favorites.
The band starts at 9 PM, right on time.  The leader ( vocals and acoustic guitar ) is Keith Mitchell.  The other members are Patrick Dougherty ( drums and vocals ), Bryan LaCombs ( steel guitar ) , Chris Stuart ( lead guitar ) and Drew Noble ( bass ).
Their stage presence is good, with no unnecessary tuning or false starts.  They move from song to song with only seconds between.  The vocal harmonies are good, and the musicianship is better than average.  These guys play together well. They have won the ( Branson )  TERRY award ( entertainers of the year ) three years in a row. I don't know who the best C&W band in Dallas is, but these guys are certainly competitive for the title. Contact:  The Keith Mitchell Band  Admin@keithmitchellband.com
Good Vibes Bar and Grill 
Corner of Jupiter and Buckingham
Richardson, Texas
(972) 707 7797
TEXAS HILL at SUNDOWN AT THE GRANADA

March 16, 2023
By now, it's no secret that I'm fond of the Granada and Sundown at The Granada (next door ). It's a very well-run place and a local favorite for young adults. Parking is easy and lacks the almost weekly gun battles in the Deep Ellum ( Elm Street) area. Sundown at the Granada frequently has very good touring groups on Wednesday through Saturday. I often go on Wednesdays or Thursdays and avoid crowds and enjoy free parking. Thursday comes, and I have no place I really want to go over the weekend, so I go to Sundown. That night, I saw that Texas Hill is playing. Now, I'll admit that I knew only what I found on the internet about Texas Hill. Texas Hill is actually based out of Nashville and is currently touring Texas, Missouri, and points north (link for touring schedule: https://www.texashillofficial.com/tour). Before the current tour, these guys formed a trio consisting of Casey Wayne Boyd (winner of American Idol, season seven ), Casey James ( third place American Idol, season nine ), and Adam Wakefield (runner-up of The Voice, season ten ). Before beginning the current tour, they added Mark Singleton ( Bass ) and Louis Winfield ( drums ). They have also recruited Bart Walker for guitar lead, but he was absent this night, touring elsewhere. Regardless the group that showed up at the Granada consisted of four members,
James, Wakefield, Singleton, and Winfield. Though the trio ( Wakefield, James and Boyd ) are primarily Country music virtuosos, but this particular night ( with the addition of drummer Winfield , and Singleton on bass) placed more into what I would call country rock or Americana or both. That being said, they were terrific. Plain and simple. Individually they are talented, but more importantly, they play together and any group I've had the pleasure to see. Music is a very hard business and much depends on who you know and help from those who have "made it". Having said that , these guys are top-notch. These guys could easily become enormously successful with good management and the right song. See them while you still can. I feel fortunate to have met and heard them at this stage of their career.
Contact: TEXAS HILL: www.Texashillofficial.com/contact
Booking: Chris Looney , Reliant Talent Agency
(803) 479 0511
 
Sundown at the Granada
3520 Greenville Avenue
Dallas, Texas 75206
(214) 823 8305
JB.
Sundance Head & Austin Gilliam Magnolia Motor Lodge Fort Worth
March 03, 2023
Jason ( Sundance ) Head is the son of legendary Texas singer Roy Head and quite the star in his own right.  He was a semifinalist on the 6th season of American Idol and won the 11th season of the The Voice.   He is a talented singer/song writer who plays guitar and keyboards.
On March 3, he appeared at the Magnolia, backed by Dustin Edwards on drums and Dave Walters on bass.   The band had a good stage presence and moved from song to song with a few interludes.   The songs were what I call "cross country";  country message and a hard rock beat.   
Sundance and his band are amid a heavy touring schedule,  including most of Texas and Cabo San Lucas, Mexico.  This man is a touring machine; if you're lucky, he'll be coming to your town soon.
Sundance can be contacted on Face Book and Twitter. His music is available on Spotify and Apple music.
Austin Gilliam, along with Tony Valdez ( bass ) and Clay Rheinlander ( drums ) opened for Sundance.  An interesting pairing.  Two trios, with lead vocals and a guitarist fronting each group.  Austin is also a singer/songwriter and a pretty fair lead guitarist.
Most of what I've written about Sundance also applies to Gilliam as well.   A bit newer on the scene, but I think Austin Gilliam is a singer to watch.   Raw and rocking, I expect Mr. Gilliam has yet to reach his potential.
You can find his music on the usual streaming services and contact him through FaceBook, Instagram, or Twitter.
The Magnolia Motor Lodge has recently moved west from Morton street in Fort Worth to the Camp Bowie Circle ( 3803 Southwest Blvd, Ft Worth. (817) 332 3344 ) .
The move hasn't quite caught on yet, as when I was there ( to see Sundance and Austin Gilliam ) there were no more than fifty people in attendance for the entire show.  They no longer have food on site, but there was a taco truck parked outside.  Parking was ample and free.   The venue, per se, has more than adequate room, stage and sound system.  In fact, the structure ( previously an auto repair shop ) was concrete, floor to ceiling making the sound bounce like a golf ball in a tile bath room.  I'm sure the crowds will pick up as fans find the place, but it could use some baffling or fixtures to improve the quality of the sound.  There was minimal wait staff, but the bar service was prompt and pleasant. The Magnolia is a Fort Worth institution and I hope they're around for a long time.  
NIP SLIP, LOCO GRINGOS and GO-GO-RILLAS Double Wide, Dallas Texas
 February 18, 2023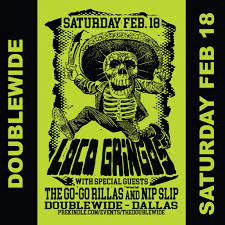 Saturday nights in Deep Ellum are tough. The crowds are dense, and parking requires a second mortgage on your house.  It is true, however, that the further east you go, the crowd thins, and curbside parking becomes a reality.  The Double Wide is at the convergence of Commerce and Exposition.  That, combined with interesting entertainment, make Saturdays in the Ellum a reasonable destination. When I saw the line-up, I knew it was time to hit the Deep Ellum strip on a Saturday night.
The first up was Nip Slip, a five-piece outfit that had previously escaped my attention. Two ladies on bass and guitar, a keyboardist who doubled on trumpet, a drummer, and a male vocalist. They played original material, kind of indie/rock/punk. They are not the tightest group in town but are young and working. A few of their arrangements included solos and interludes by the trumpeter. I like bands with horns.  Though I could find very little literature concerning this band, keep an eye on them.   In time, they may just get where they want to go.
Speaking of going places, how about been there ……for a while.   Enter Loco Gringos.  Formed in 1985, they have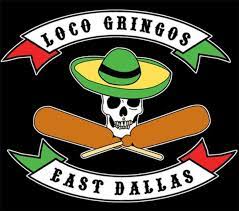 had some personnel changes, but still stick to the idea that drinking, dancing, and carousing are a state of mind if not a way of life.   They play a non-stop string of rock-surf-punk and Tex-Mex music.  The crowd responded accordingly.  No metal guitar shredding solos or whinny ballads.   Just hard driving rock in 4/4 time.     I'm fully expecting this band to be around for another thirty years.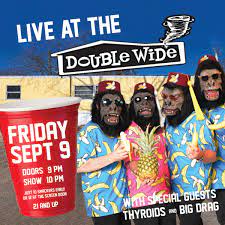 The much anticipated 50th public appearance by the G0-G0-Rillas began around 11:30 pm and the crowd had swollen to fill the performance room.  Holy Nairobi Trio, Batman!   Four guys in nice gray tuxedo suits, full-head gorilla masks, and red fezzes.   There was some singing ( must be a bitch through a rubber mask ) but most of their music was surf-type guitar music. Their moves were synchronized and generally entertaining.  Granted, this is a novelty act, but it's a pretty good one and worth the trip to Deep Ellum, even on a Saturday.
JOE KING CARRASCO y LOS FREE MEXICAN AIR FORCE at Six Springs
 February 11, 2023

It's a bit unusual when a music legend comes to town with little fanfare. So it was with Joe "King" Carrasco on Friday night. Before I go further, note that Joe is prominent among the featured artists in our Legendary Texas musician segment on this website. He showed up in Dallas with about two weeks' notice by Six Springs on FaceBook.
 
He did an appearance a few days before on channel Eight ( WFAA) 's "Good Morning Texas ", but it was so early that any self-respecting rocker would still be fast asleep. Rocky Athos opened the show with his band and was well-appreciated by the audience. There were more than the usual Saturday night crowd at Six Springs
, and by their response, many were there to see Carrasco. A native of Dumas, Texas, and current resident of Puerto Vallarta, Joe gets to Texas occasionally. Though not so well known as some of his seventies contemporaries, his "Nuevo Wavo" sound is still intact, and he puts on a high-energy and very entertaining show.
He does original songs in the style that made his career in the first place, but also covers some Freddy Fender and even his own version of "96 Tears ". Beer flowed like water, a few couples danced, and everyone ( myself included )
were just amazed by his talent and creativity. Oh yeah, he made me promise to ask everyone to visit his restaurant Nacho Daddys, the next time you're in Puerto Vallarta. As he says, "The only Tex-Mex
food in the Mexican State of Jalisco". Come back to Dallas soon, Joe. You really do have fans here.