---
At the corner of Commerce Street and Exposition sits a club/bar that is unique, even for Deep Ellum. The "Double Wide, ( as in the trailer ) is visible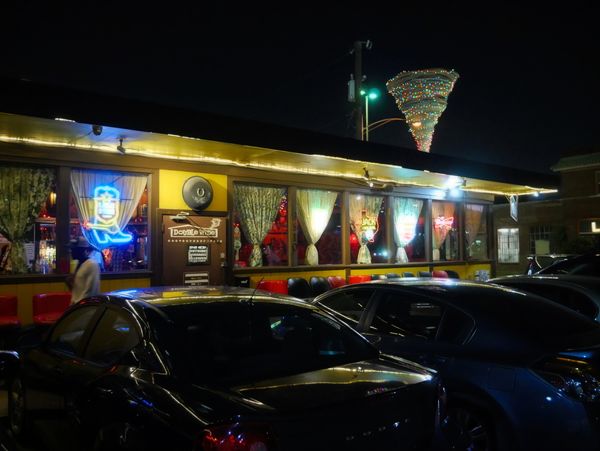 from two blocks away, mainly due to the large gray plastic tornado that adorns the roof at one end. The other end is surrounded by a metal fence topped with a bicycle on which sits a chrome skeleton (which I hope is not real ). The parking lot is wide open and allows smoking.   Unlike most of the busier parts of the Deep Ellum, there is ample free parking in the area.
The night I went the band canceled and so I decided to just look around and absorb the atmosphere. Their ads read "Welcome to the Wrong Side of the Tracks ". One enters through an anteroom with chairs and tables, which I suspect is used to wait for entry to the showroom, drink, and discuss world affairs.  Immediately to the right is a doorway that leads into a long bar area, the walls of which are adorned with pictures of Elvis, mounted animal heads, neon beer signs, and a large portrait of a mostly nude woman. In short, the usual Deep Ellum tackiness.  Happy hour offers well drinks for $3 and ice cold drought beer. This was a Wednesday, and the bar was packed.   
From the entrance anteroom turn left into the showroom. It is a medium-sized room with a large dance floor and stage. I'm told the décor varies from painted toilets to a disco mirror ball. There is a beer bar in the showroom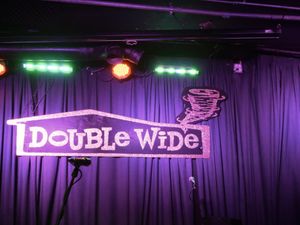 , heavier drinks being shuttled in from the larger bar.
As I said, there was no band when I was there, but I am told that depending on the night, there may be a DJs, Karaoke, or live bands ( country, rock, punk, and everything in between ).
I should also mention that the Double Wide's little sister is the "Single Wide "on lower Greenville Avenue. That, however, is another story.
The Double Wide is at 3510 Commerce at Exposition , www.Doublewide.com , (469) 872 0191.
Open every night until 2 AM.